About NextGen Restoration
NextGen Restoration is a roofing and storm restoration company that can help you during these tough times. We understand that a bad storm can do a lot of damage to your home. That's why we offer quick, efficient, and affordable services to get your home back to normal. We want to make the process as easy for you as possible. That's why we offer free estimates and 24/7 emergency service. We're here for you when you need us most.
Looking for roofing contractors? Contact us today for all your roofing and storm restoration needs!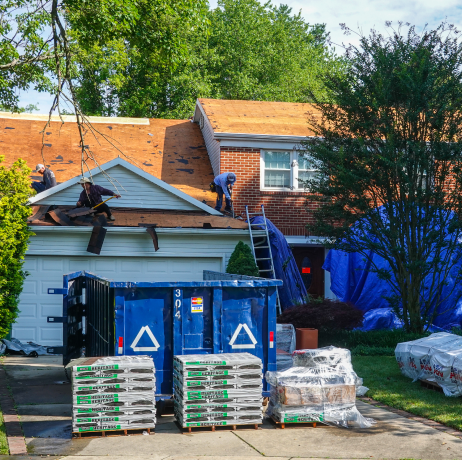 Top-Quality
You deserve a roof that will last as long and look just as good. Our team specializes in the high-quality installation, so your home is sure to have an expert providing the service for years!
Professionalism
You can be sure that our team is an expert in their field. They provide quality workmanship and guaranteed customer satisfaction!
Excellence
Our skilled roofers will take care of your home with the most expert team on site. We have experience in storm damage, roof repairs, and installing new windows.
Frequently Asked Questions
We offer a variety of services to meet the needs and preferences for every customer. Check out our FAQ to learn more!
What does hail damage do to roofs?
A: Hail damage mainly shortens the life of your roof through accelerated granule loss to the shingle. The granules protect the underlayment of the shingle and in the normal aging process, granules fall off over a period of many years. During  a hail storm, those granules get knocked off and can cut the life of your roof in half. During our Storm Inspection process, we look for shingle bruising or dark circles representative of the size of hail.
Why does insurance pay for hail damage?
A: Your insurance company pays for hail damage to minimize its level of loss. For example, a roof with 15 years of life left should not leak. However, this roof will most likely begin to leak after a hail storm. If this leak is not repaired, additional damage will incur and the overall insurance loss will be much greater in the end. Additionally, the insurance company owes you for the loss of value in the depreciated value of your newer roof.
What does hail damage do to siding?
A: Damage to vinyl siding will normally be shown by visual breaks, cracks, or holes in the siding product. Normally, if these items are not present, your siding has not been damaged. on the contrary, aluminum siding shows damage in other ways. Large hail will produce dents throughout the entire elevation of aluminum siding. Even smaller hail, with high velocity crosswinds, will produce dents large enough to cause significant damage to the aluminum. Small dents are considered cosmetic damage by your insurance carrier and, in most cases, are covered under your property insurance policy. Hail can also cause similar damage to your aluminum guttering system. Dents visible from hail are normally cosmetic, but in most cases, are still covered by your insurance policy. This is again because of the lost value of the property as a direct result of cosmetic damage.
Why hasn't my insurance company contacted me about the damage?
A: It is the responsibility of the insured to file a property claim. The insurance company is unaware of any damage you may have sustained to your home without the damages being reported.
What should I do if the insurance check has my mortgage company's name on it?
A: Each mortgage company has its own unique policy regarding insurance payments.  You should contact your mortgage company as soon as you receive the first check and request their procedures. It may take up to 4 weeks before you are able to deposit this check so being prepared and planning ahead will ensure that your project flows smoothly. The mortgage company will also typically request that your contractor completes several forms. Your NextGen Restoration representative can help you through this communication and data collection process by dealing directly woth the mortgage company on your behalf.
Can I avoid paying my deductible?
A: Legally, you are required to pay your insurance deductible. The insurance company will take the cost of your deductible out of the claim money so it is paid right away. You still owe your deductible to your contractor for insurance-related work.
What does (RCV), (ACV), and Depreciation all mean?
A:
RCV stands for Replacement Cost Value (RCV = Depreciation + ACV). The cost of repairing the covered damage in today's market. Most homeowners' policies are RCV. However, if you are a landlord, look into your policy. Most landlord policies are ACV only.
Our customers are satisfied with their new roofing projects! Read what they're saying about working with us!